William Henry Thring Hawkins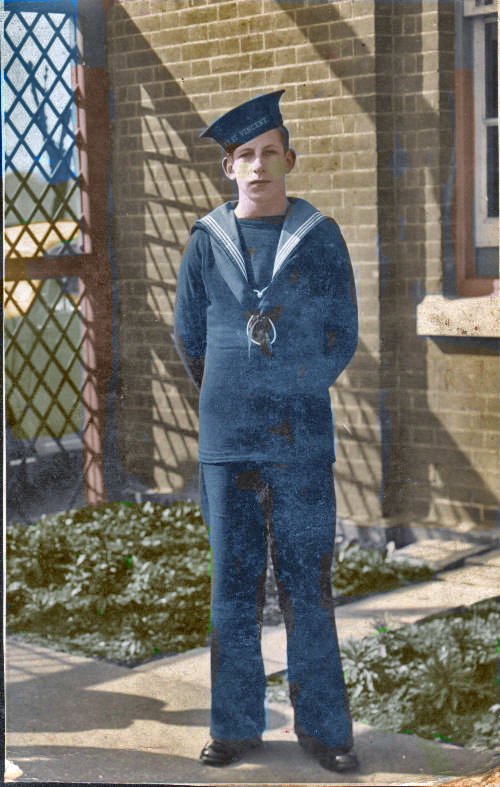 This is my Fathers story as he remembers it there is a lot that is missing as when we got him to set pen to paper many years had passed and some memories are easly repressed. His story can also be found on-line on the HMS Hood web site under Crew Biographies and in Nixie Taverners book Hoods Legacy page 147. he is also included in the Book The battlecruiser HMS Hood An illustrated Biography 1916-1941 by Bruce Taylor
Joining the Navy had not really been a boyhood ambition of mine, but a friend who was on leave from the Royal Naval School, Holbrook, Suffolk told me that it was a great school and that they even had fish and chips twice a week and they wore sailor's uniforms. So I asked my Father if I could go. He put in an application and found that I was entitled to be enrolled being that he was an ex Colour Sergeant in the Royal Marines. So off to London I went to sign up. From there I was sent to the Royal Naval School. After the first year I asked my Mother if I could come back home, she said that I would have to ask my Father. He said "Son you have made your bed and now will have to lie in it". Thus begun my Naval career.
I stayed at the Royal Naval School for 4 years from 1934 to 1938 where I was transferred to H.M.S. St Vincent to complete my training. During that time I had 3 great shipmates whose names I shall always remember: Sammy Milburn, Alan Hale and (Bunny) Ford. Where they went at the start of the War I do not recall.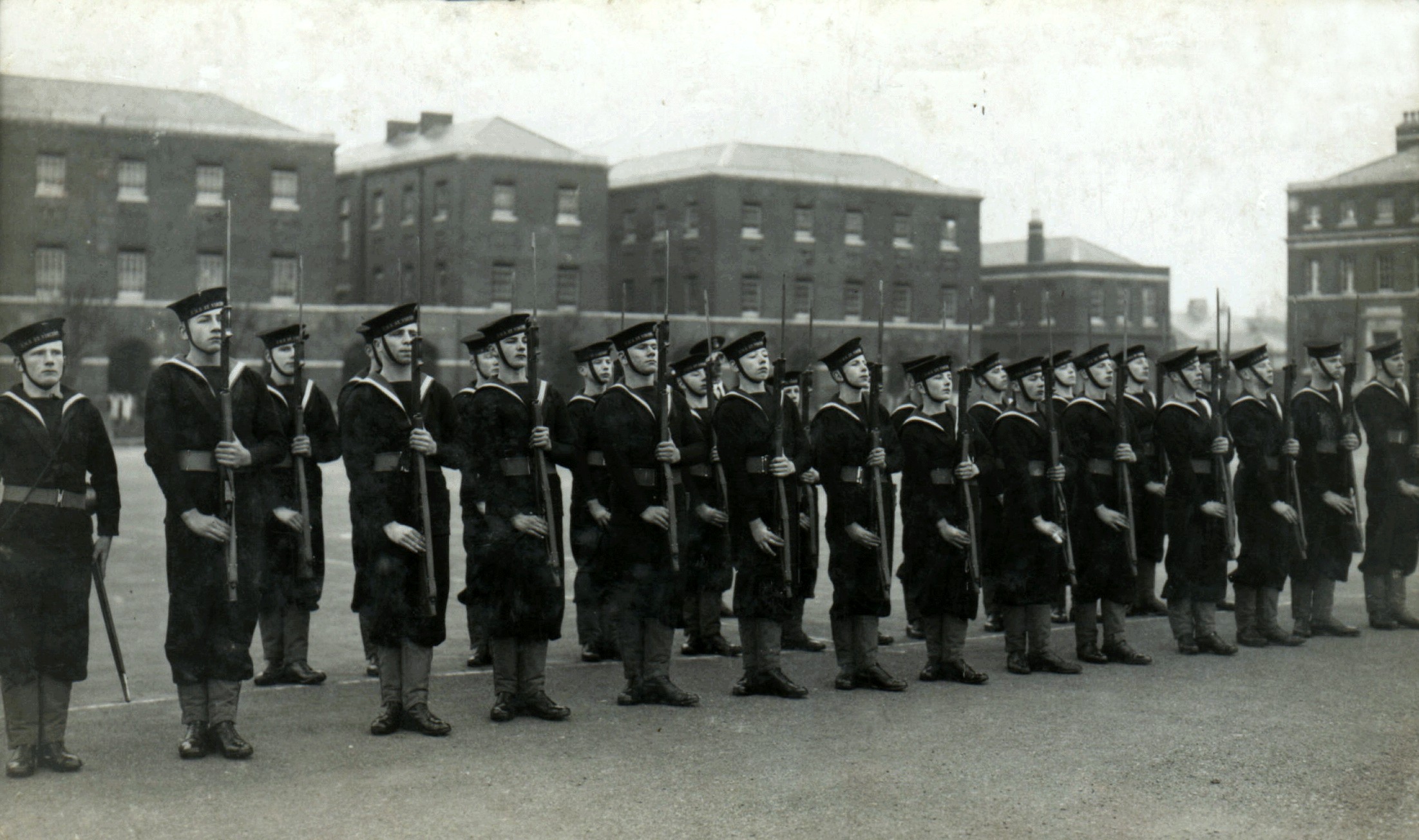 Here is a photo of my class - the last class of "Boys 1st Class" who had trained at St Vincent Gosport from 14th June 1938 to 4th August 1939, they were all drafted on the 5th of August 1939.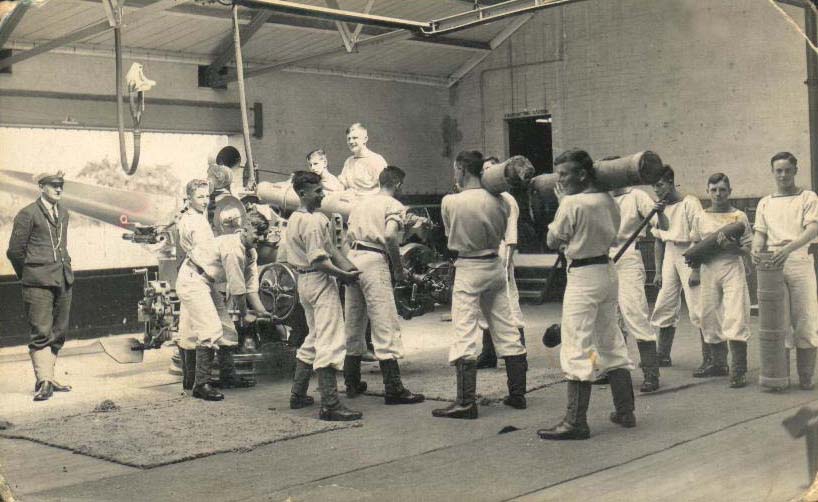 Training in the Gun room
I often wonder how many people knew how long it took to train a boy of eleven before he was ready to be drafted to his first ship. May I say, no wonder we had the finest Navy in the World.
By the time I joined my first ship, H.M.S. Belfast, I had gained two nicknames: "Jim Lad" from Treasure Island and "Justice" as in Justice Hawkins. I joined H.M.S Belfast at Portsmouth on 5 August 1939 as a Boy 1st Class. Belfast was damaged by mines while doing working up trials, I was then drafted to the HMS Frobisher. By the New Year of 1940 I had been rated Ordinary Seaman and was to leave Belfast to be drafted to my new ship - H.M.S. Hood. I don't recall exactly where I joined Hood but it was New Year's Day 1940.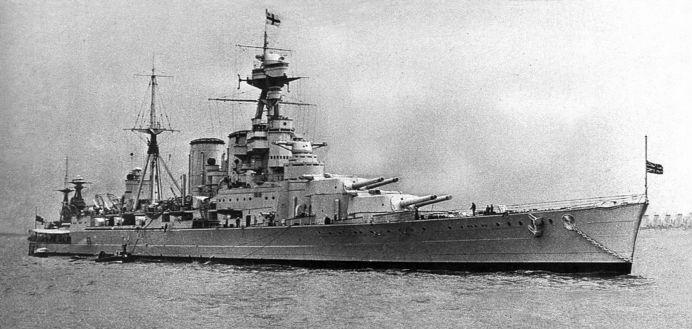 Day to day life on the Hood included quite a bit of training - closing up to action stations etc. My station took me a while to get used too, as it was on watch in the spotting top. One night it was really rough and she was rolling and pitching against some heavy waves, when it was my turn to go down and get the cocoa, on the way back up she gave a bit of a lurch and I lost the lot. When I finally made it back I was told to report to the Officer of the Watch on the bridge who informed me it was one hand for myself and one for the cocoa not two.
In an extract from the book "The Battlecruiser Hood" page 121 I read "Small wonder OD Bill Hawkins (1940-1) always took care to bring his clothing with into his hammock when he turned in for a kip. For such moments-and there were many-when only complete solitude would do, the caboose, or cabouche as it was sometimes called came into its own". Jon Pertwee.
After reading this I asked my father did you know a Jon Pertwee "yes he replied " but dad thats the guy who played Dr who "no" he said "I dont think so" but after some more research indeed it was.
As you know she was a mighty ship but a very wet one inside in bad weather. They had a special party (very unpopular) whose job it was to mop up the water, this carried on night and day. One never left clothes on the mess table or stools when it was time for a nap, you made sure you took them with you in your hammock. The heads (toilets) were right forward and when she had heavy pitch you had to stand up or you would have "you know what in your pants", sometimes a bit of a laugh and sometimes not.
HMS Hood The Battle of Oran I remember this action quite vividly as my station was in the spotting top. Force H arrived early in the morning off the coast of Oran. H.M.S. Valiant, with HMS Ark Royal and several destroyers, signals were sent to the French fleet to join Force H. This was turned down so one destroyer flying the white flag went in to negotiate, but returned with no settlement. The next thing we knew was the French fleet starting to make a run for it - that's when the action started. H.M.S. Hood turned broadside on with H.M.S. Valiant opening fire on the French Fleet. The action lasted well into the late afternoon with the French soundly beaten. Only Strasbourg managing to escape, H.M.S Hood in pursuit, but owing to an error in the engine room we lost our top speed and failed to catch her.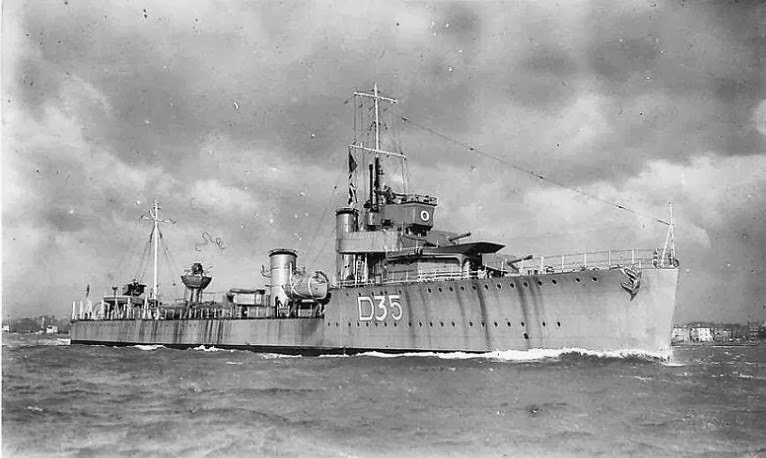 I left after my short stay in Penelope; I was drafted to a V and W destroyer H.M.S. Wrestler which then joined Force H at Gibraltar. The first convoy to Malta was a great loss to all taking part. My action station was assisting the loading of the midship 12 pounders which were pretty accurate at low flying aircraft - mostly Italian trying to hedge hop over the screen to get at the merchant ships with their torpedoes. If that was not bad enough the German bombers were creating havoc from above, and it became in a few words "hair raising!" We were at top speed and were very lucky on several occasions not to get hit, I must put this down to our skipper who remained cool, skilfully altering course at the precise time and as night fell we came through with no damage. You might think it strange but during the night watches we whispered to one another. Over the past days' events I guess we felt if we spoke too loud the enemy might hear us. On reaching Malta walking along one of the damaged wharves, I was amazed to see a ship tied up that I had served on - the H.M.S. Penelope.
You could have made a garden on the upper deck with all the earth and rocks on her, she had massive holes in her sides. I still don't know what happened to her at that stage but I did hear that they managed to get her back to Gibraltar. And may I add I am glad I never had to go through another convoy operation, which lost so many ships and brave crews.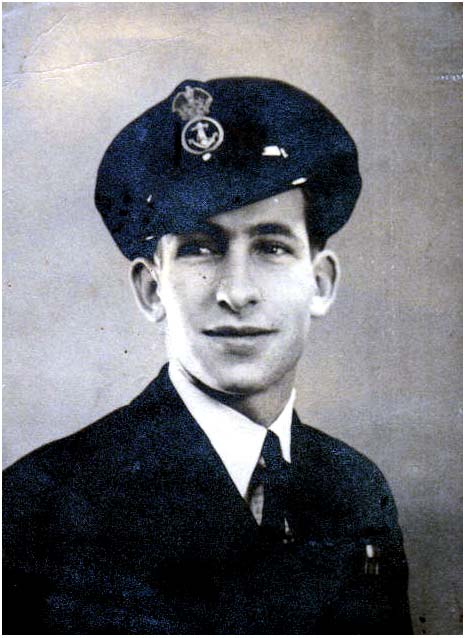 I left the Navy in September 1947 because when I returned from the Far East, I was too late to be a Petty Officer on the electrical side. The only vacancy was for Petty Officer Asclic and Torpedoes and I did not want that, so my Father gave me money to buy myself out and away went my Naval Career. After the War I worked for a company called Air Speed - a branch of De Havilland at Portsmouth working on the Comet and then the fighter Vampire as an electrician fitting and installing instruments and wiring. I was there for two years. Historical Note: Air Speed was the Company formed by the novelist Nevil Shute (real name Nevil Shute Norway). Although he wrote many excellent books, his most famous is probably "A Town Like Alice." Most of his novels have a sea or air theme. His autobiography "Slide Rule" tells of his early days with de Havilland and his work as Chief Mathematician in the R101 project. During this time he worked with Barnes Wallis who was the project's Chief Engineer. During the war he was a Lieutenant Commander working on experimental weapons for the Royal Navy. He formed Air Speed in the early 1930's . He emigrated to Australia after the war and many of his later novels are set there. In 1962 I qualified as a Prison Officer, and after one year I sat an exam for Trades Officer, passed okay and became a Prison Trades Officer. I spent seven years in several different Prisons before leaving for Australia in 1969. My first job here was at a car manufacturer Chrysler where I was employed as a maintenance electrician and I stayed there for two years. From there I travelled to a town at the top of Western Australia called Tom Price which is the largest iron ore surface mine and iron ore mountain in Australia. I returned to Adelaide and started work at Mitsubishi as a special class electrician in automation. In 1982 I had a bad accident at work and was given an invalid pension. At the age of 65 I received a 75% English pension which does not increase as the years go by, it's a sore point over here that the English Government has treated its Veterans so badly. At least the Australian Government gave their Veterans a medical gold pass. Still I guess that's life and one has to grin and bear it.William Henry Thring Hawkins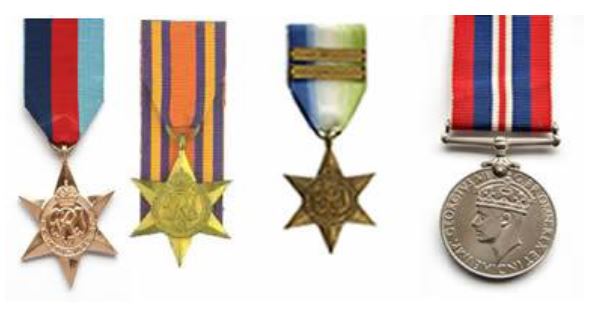 I would like to express my gratitude to all who have been through a war or as they sometimes refer to it as a police action, every time I stand for the ode to the fallen I not only remember the fallen but also of those that survive whom we all owe a debt of gratitude.
John Ernest Hawkins